Mathematics at APPS
At Ashford Park Primary School we are passionate about enabling each pupil to develop not only the mathematics skills and understanding required for later life, but also an enthusiasm and fascination about maths itself. We aim to increase pupil confidence in maths, so that our children are able to express themselves and apply their ideas using the language of maths with assurance.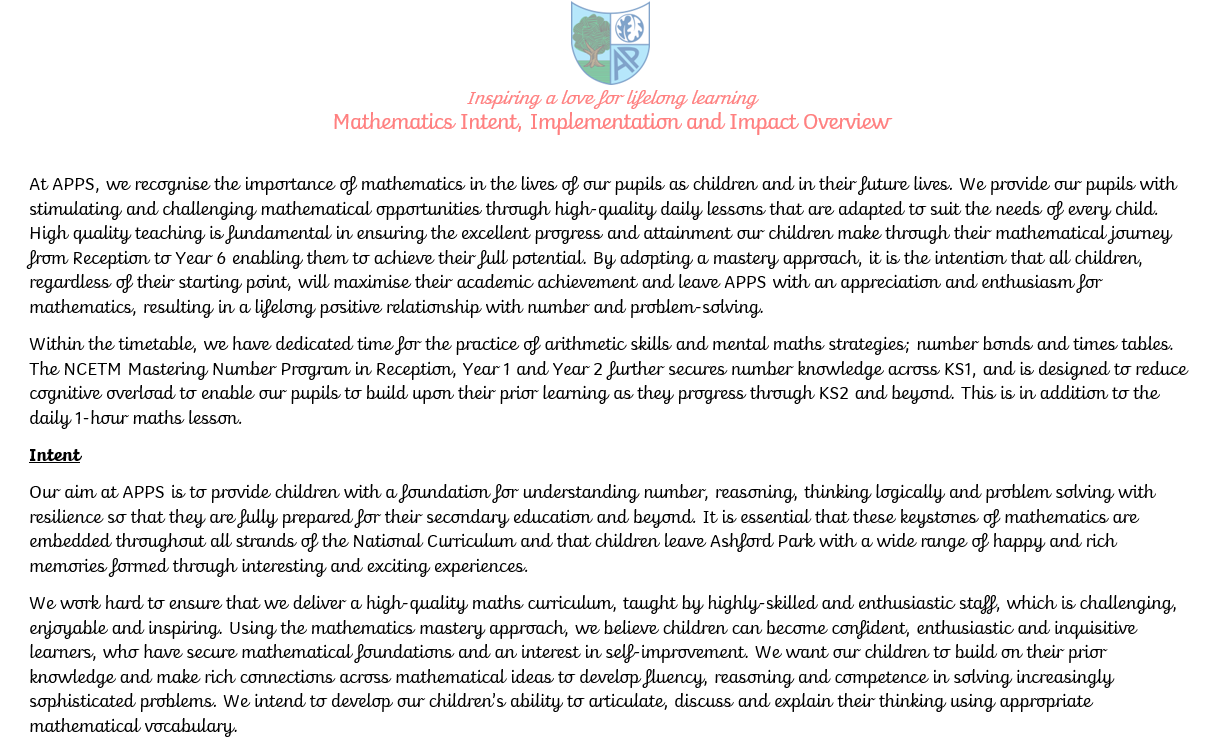 Please find a link to the National Curriculum mathematics, programme of study for the teaching of mathematics and where we aim to teach our children to excel in its three core areas of:
Fluency
Reasoning
Problem-solving
Our principal aim is that children leave Ashford Park with a wide range of happy and rich memories in mathematics formed through interesting and exciting experiences that enhance a child's awareness of their own abilities and strengths as a learner.
Through our mathematics lessons at APPS, it is our aim to:
Provide a high quality mathematics curriculum that is both challenging and enjoyable;
Develop independent learners with inquisitive minds who have secure mathematical foundations and an interest in self-improvement;
Allow our children to enrich their knowledge by, for example, undertaking maths investigations outdoors and applying maths skills across the curriculum;
Develop a deep understanding of the mathematics they are studying through applying their prior knowledge to solve problems;
Provide a variety of mathematical opportunities, which will enable our children to make connections in learning and develop confident mathematicians who are not afraid to take risks.