PSHE and RSE
Jigsaw PSHE
We are proud to use 'Jigsaw' to deliver our PSHE (Personal, Social and Health Education) and statutory RSE (Relationships and Sex Education) curriculum.
Children at Ashford Park take part in one Jigsaw lesson each week. All lessons have a focus on mental health and wellbeing, through the use of reflection times and calming meditations.
Jigsaw for PSHE uses a whole school learning approach. Every year group follows the same 'Jigsaw Piece' topic per half term, with each year's lessons building on the learning from the previous year.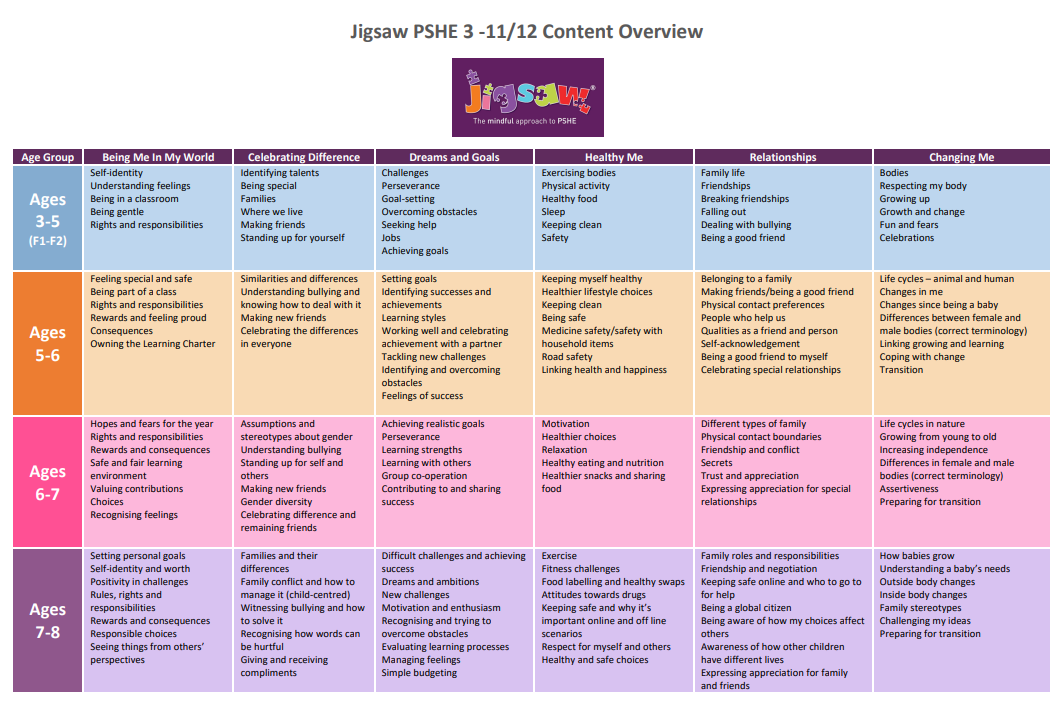 RSE (Relationships and Sex Education)
Relationships Sex and Health Education underpins our everyday life at APPS. Our children's attitudes and relationships to themselves and each other are designed to be supportive and encouraging, using our school values of: belonging, peace, aspiration, compassion, resilience, challenge and kindness to emphasise these vital life skills. We encourage individual responsibility, awareness and informed decision-making to promote healthy life-styles. PSHE enables children to manage their lives now and in the future, developing the qualities and attributes that they need to thrive as individuals and members of society.
Today's children and young people are growing up in an increasingly complex world and living their lives seamlessly on and offline. This presents many positive and exciting opportunities, but also challenges and risks. In this environment, children and young people need to know how to be safe and healthy, and how to manage their academic, personal and social lives in a positive way.

(DfE, 2019, Relationships Education, Relationships and Sex Education and Health Education)
From September 2020, Relationships and Health Education became compulsory in all primary schools in England. For primary aged children this includes curriculum content under two headings (DfE 2019):
Relationships Education
Families and people who care for me Caring Friendships
Respectful Relationships
Online Relationships
Being safe
Health Education
Mental wellbeing
Internet safety and harms
Physical health and fitness
Healthy eating
Drugs, alcohol and tobacco
Health and prevention
Basic first aid
Changing adolescent body
Please be reassured that our parents and carers will always be informed when a planned programme of sex education is about to begin. Parents have the right to withdraw their children from aspects of relationships and sex education sessions, except those elements taught as part of the Science National Curriculum.
Public Health England website - resources covering relationships and bullying, alcohol, smoking, stress, body image, with videos made by young people and resources tested with teachers.