New to Reception September 2024
If your child was born between 1 September 2019 and 31 August 2020, please be advised that the Surrey County Council school admissions website is available to guide you through the Reception place application process in readiness for school places for September 2024: Apply for a place at a primary, infant or junior school - Surrey County Council (surreycc.gov.uk)
We hope that you will have an opportunity to enjoy a visit to our school and, please be advised that to safeguard our children, you are NOT permitted to take photographs or videos during your tour. Thank you for your understanding.
In reception at Ashford Park Primary School, our aims are:
to support children to make a confident transition into school
to provide a happy, caring and safe learning environment
to plan learning experiences that meet the individual needs and interests of every child through a balanced provision of adult-led and child-initiated opportunities
to support children to become confident and competent learners so that they are able to reach their potential
to provide a broad and balanced high-quality curriculum in line with the Early Years Foundation Stage (EYFS) guidance
to foster positive home school links with parents and carers
Meet the Teachers
Mrs Kaptan is our Dormouse Class teacher.
Meet Miss Buenafe, our Otter Class teacher. She is reading "The Very Hungry Caterpillar" by Eric Carle.
Meet Miss Roberts, our Rabbit Class teacher and Reception Lead. She is reading 'Hairy Maclary from Donaldson's Dairy' by Lynley Dodd.
Development Matters in the EYFS is a document that provides Guidance to ensure that we deliver high standards of early education and care that supports the development of every child. These principles underpin all future learning by supporting and fostering the children's personal, social and emotional wellbeing. It encourages positive attitudes and dispositions towards learning, and promotes learning through play.
Recommended documents:
Statutory framework for the early years: Framework
Guidance on what to expect at each stage of their child's learning and development can be found here.
Guidance on supporting your child with starting school can be found here.
Reading varied and quality texts will be key to your child's success. Discover the 100 Best Picture Books to Read Before You're 5-Years-Old.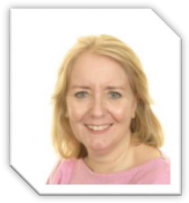 My name is Sam Girvan and I am the Home School Link Worker (HSLW) at Ashford Park.
I am sure both you and your son/daughter are excited and also a bit nervous about starting school, especially if this is your first time! Please don't be, they will all be fine and so will you!
Below is a link to a CBeebies page where you will find some useful tips and ideas to make those first few days as enjoyable and stress free as possible.
7 Top Tips to help prepare your child when starting primary school - CBeebies - BBC
You will also find my leaflet in your welcome pack which gives you a little more detail about my role within the school.
I look forward to meeting you all!